The only good thing about yesterday was my accommodation in Te Anau. My couch surfing hosts Hamish and Aurora (from Holland) are amazing, just moved to new house in this beautiful town and talking about our travels in front of fireplace was really great. They actually met on CS as well.
Hamish traveled from Africa to Europe and to Asia, same as me he did Annapurna circuit in Nepal and before he was to Papua and Papua Nuova Guinea, remote parts of the Philippines, Northern Laos and Vietnam, then it was Georgia Armenia, Iran and Turkey. He lived 4 years in Europe and during 7 years visited 50 countries!
In the morning I tried to hitchhike to Milford with no luck, so I took InterCity bus. The bus was really great as it does many stops along the way and the driver told us many interesting things about the area.
First we learnt that Fjordland is with 1.2 millions hectares the biggest national park in NZ and he also explained how were fjords created:
– Scientists are saying that fjords were created by glaciers sliding down from mountains which carved the U shape bottom of valley, often so strong that it got under the sea level – and then was flooded. There is mixed salt water in the bottom and fresh water on the surface.
– According Maori legend, demi-god Tu-te-raki-whanoa carved the fjords from rock using his adze, perfecting his technique as he progressed from south to north, with the last fjord, Piopiotahi (Milford Sound) being his greatest achievement.
Leaving it up to you which version you wanna trust.
Te Anau lake is the second biggest lake in NZ, it is 65 km long and covering 344 sq. km. In thanks of 400 meters depth it has the largest volume of fresh water in whole Australasia. The average elevation is 202 meters above sea level and the deepest part of the lake, carved out by glacial action, is 226 meters bellow sea level!
Most famous bird here is Kea parrot – the only parrot living in Alps and the most clever in the world.
There is also other interesting bird living in monogamy. If female dies, her "husband" starves himself to death. If male dies, his "wife" starves for one week and then finds other partner 🙂
We crossed latitude 45 degrees – basically the place from where it is same distance both to south pole and equator. Funny thing is that this 45 degrees latitude place is one of the wettest in New Zealand where it rains 6-10 meters per year, while just 120 km east (again 45 degrees latitude) is the driest place.
We also learnt that "tramping" means just normal hiking in Kiwi language, nothing special. And as our driver loves tramping, he tried to walk Milford trek already 3 times, never finished. He is always trying out of great walk season, not only because the DOC huts cost 15$ instead of 70$ in season, but also because with snow it has special atmosphere and some people like it more difficult. This year they did even start from Te Anau Downs (standard first day is 1.5 hour by boat and 1.5 hour walk only), but they tried it without boat via Dore pass route – e.g. crossing river and then extensive 10 hours hike (started with darkness, did not arrive before darkness), unfortunately for new snow arrival they had to stop for few days and even if his mates continued, he had to go back to work and could not finish. Next year he will try again in May – that's the challenge 🙂
Our first stop was at Earl mountains, which became famous as Misty mountains in thanks of Lord of the Rings.



Second stop was at Mirror lake, but in thanks of small rain we could not see great reflection of surrounding mountains in the water as is usual in sunny days.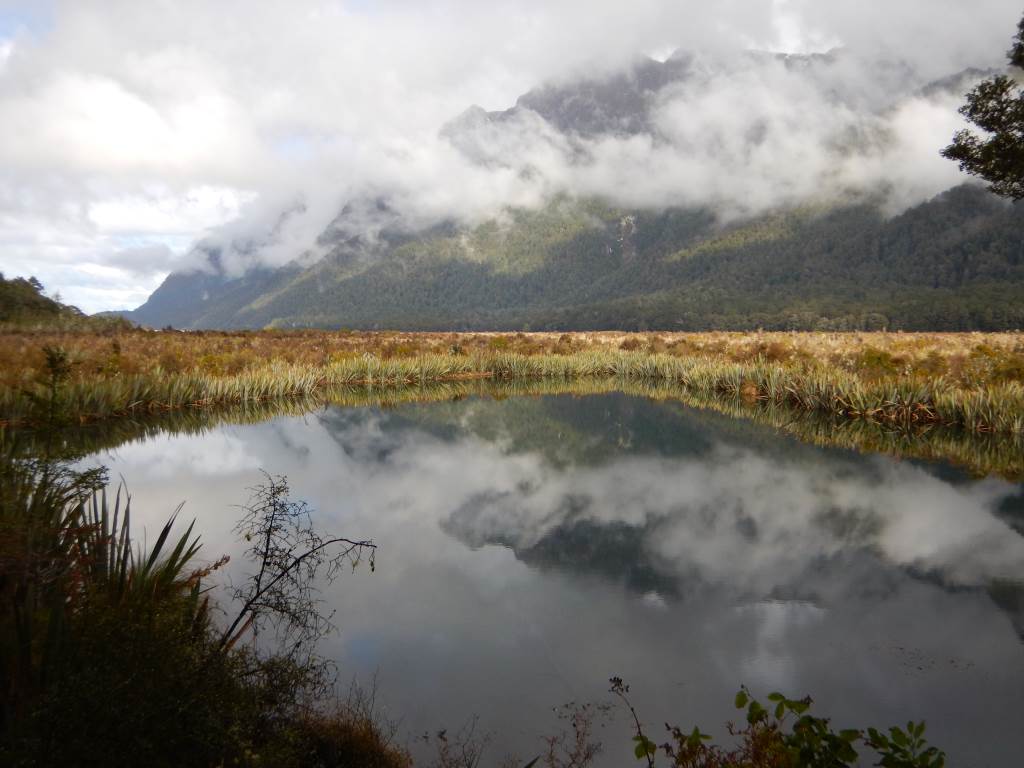 Scenic route goes through beautiful mountains with many creeks, rivers and waterfalls (in spring or after rain there are except few permanent falls also many temporary falls)
Our next stop was at one creek where the driver told us we can drink the water from the creek, as it is better than tap water at home – it might just be with some birds shit, but that is just calcium good for our health. Here was also one Kea attacking car that stopped next to us. As it didn't attack us, we continued.

Last stop before Milford was big waterfall The Chasm. Here I talked to one beautiful girl from our bus. Funny was that yesterday Hamish was asking me where I found the best girls – and this one answered my question "Where are you going next, if you travelling alone maybe we could rent a car together" with "I am also Czech, you do not need to speak English"
If you go for a cruise in Milford Sound, try to arrive as soon as possible. With Juicy the same cruise is 45$ at 10am, 60$ at noon and 79$ at 1:30pm!
Milford Sound is nice place with fjords, waterfalls, sea lions, no luck for penguins nor dolphins today 🙂