Reason to go to Cairns? Of course the Great Barrier Reef, the best diving place in the world.
We booked our tour with Compass, but as the weather was not perfect and there were not many people, they joined our group with more luxury Reef Experience trip – not complaining about having better boat for same price 🙂
There was some confusion at the beginning with exchanged people codes (given in order to verify everybody is on board), broken snorkel (changed without problems) and missing fines (only size 46 remained for me when I was originally given 40) Unfortunately the mask became foggy immediately, so I went to take my personal instead and rent a wet suit, as the water was pretty cold. Of course that with wet suit I expected to get weights as well in order to be able to dive – but only after paying I was told that I cannot get that, because "it's the company policy". When I finally got to the water, there were too many people everywhere around you and if you swam little further, you were immediately called to go back. Moreover with big waves which were throwing me around I felt bit dizzy. Well, pretty big disappointment already at the beginning – I did not resist in the water too long and went to get cup of hot tea.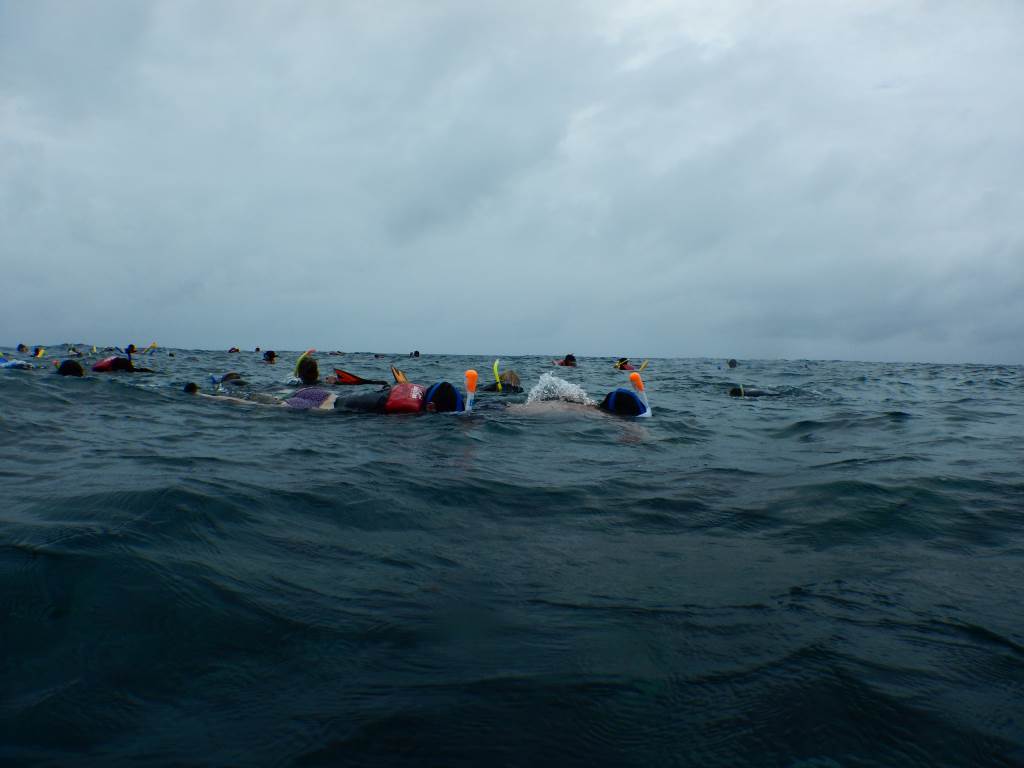 In meanwhile almost all the people got back to the boat and when I jumped to the water for the second time, it was completely different experience and I started enjoying it much more.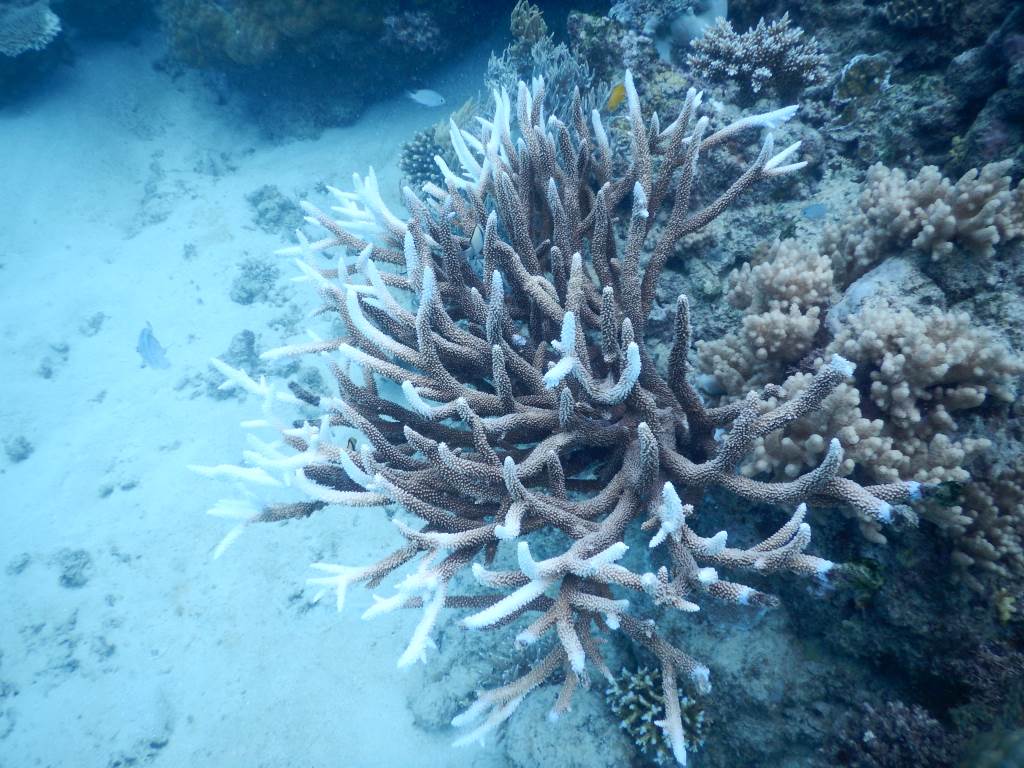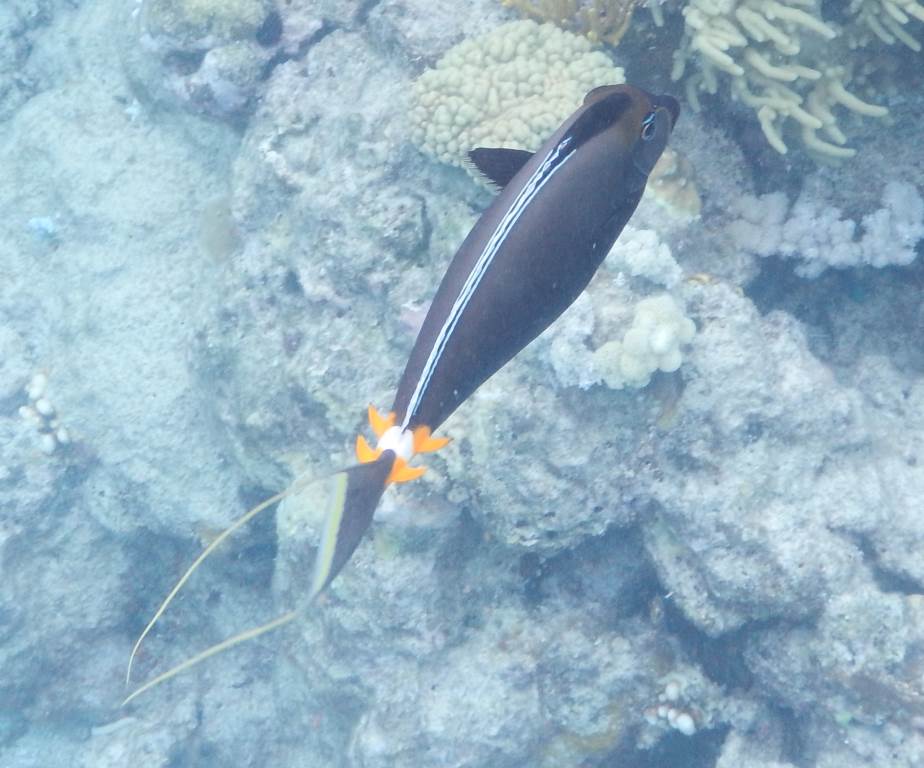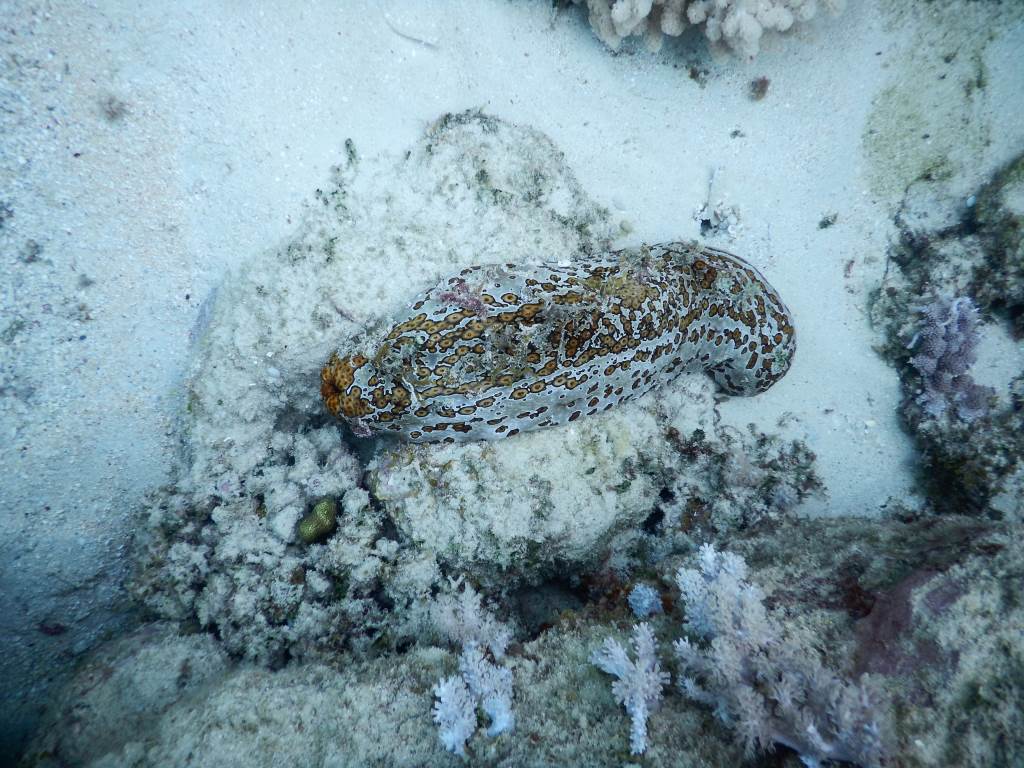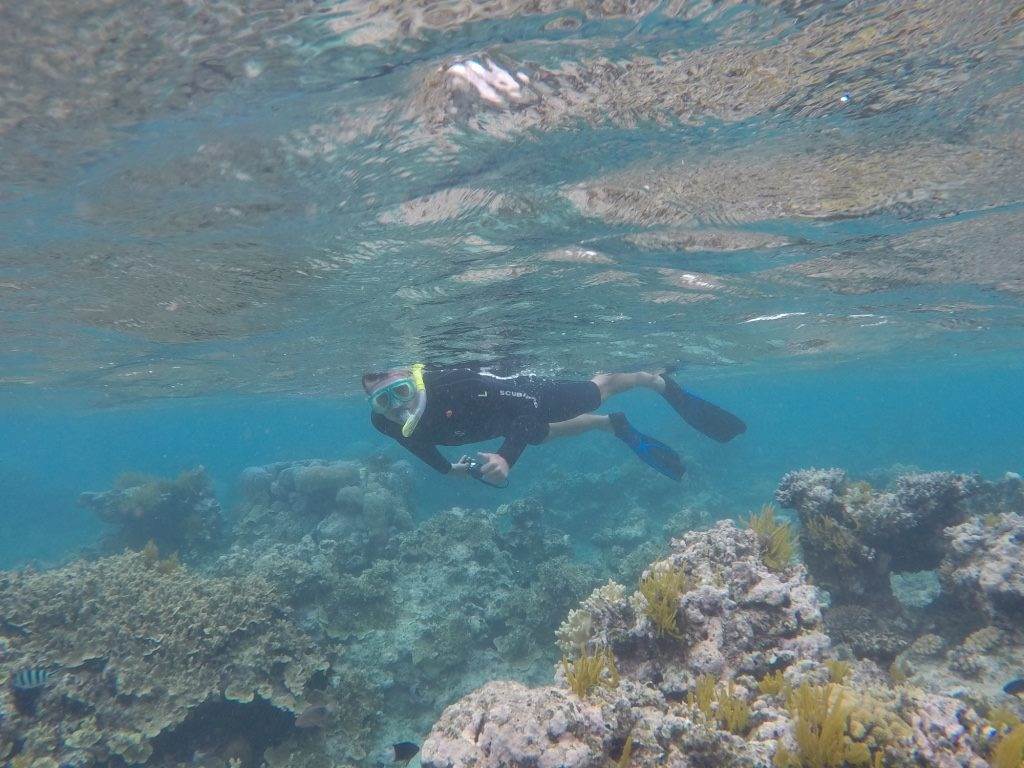 During great lunch we moved to second spot and here everything went smooth immediately. Best moment was when one of the boat crew called us to see Claun Fish, known to everyone under the name Nemo. When I proposed him to take a picture with him and Nemo, he denied – I asked if because he already has many of those – he told he has been working on the boat for a year and half and this is the first time seeing it. We were pretty lucky I would say 🙂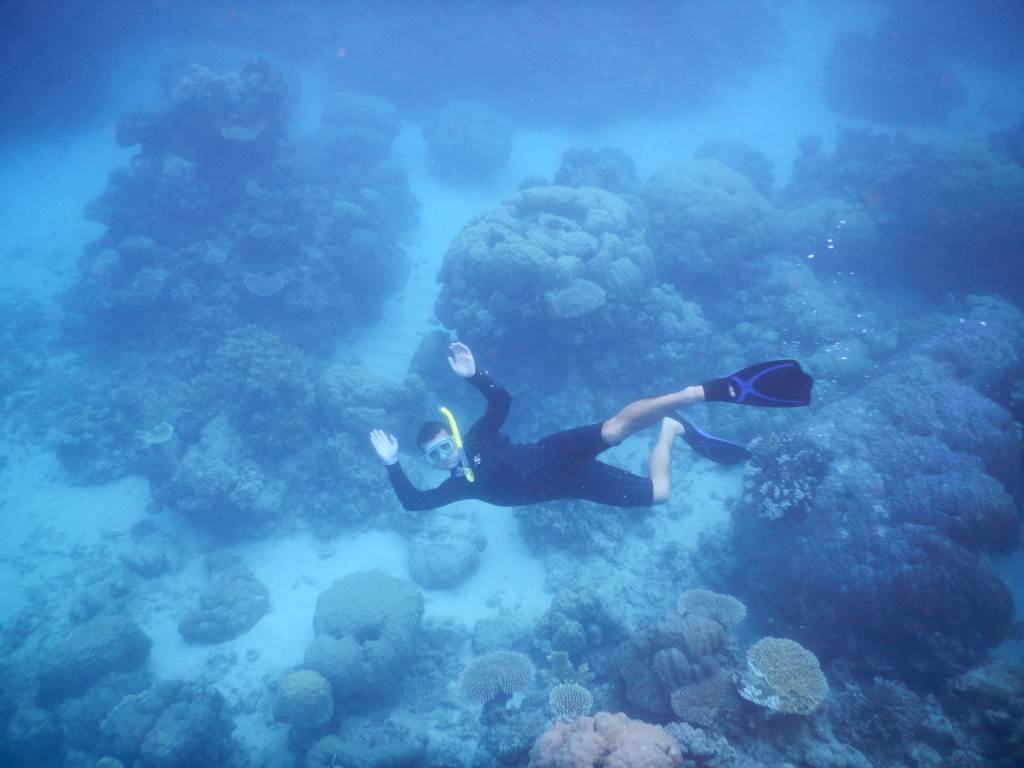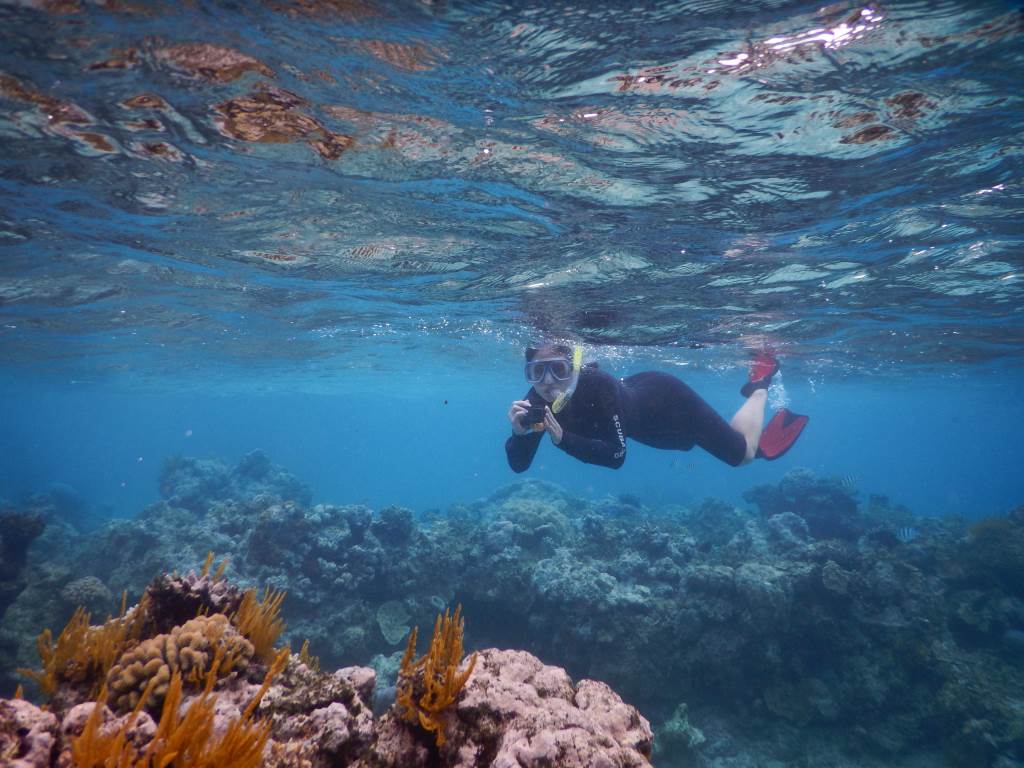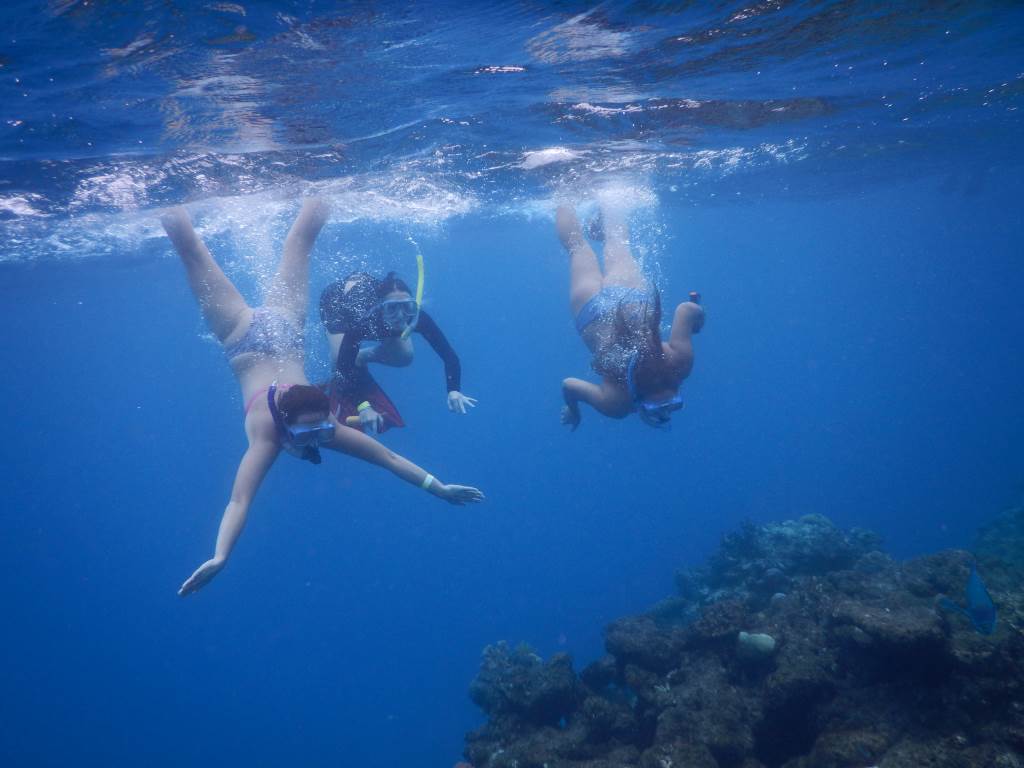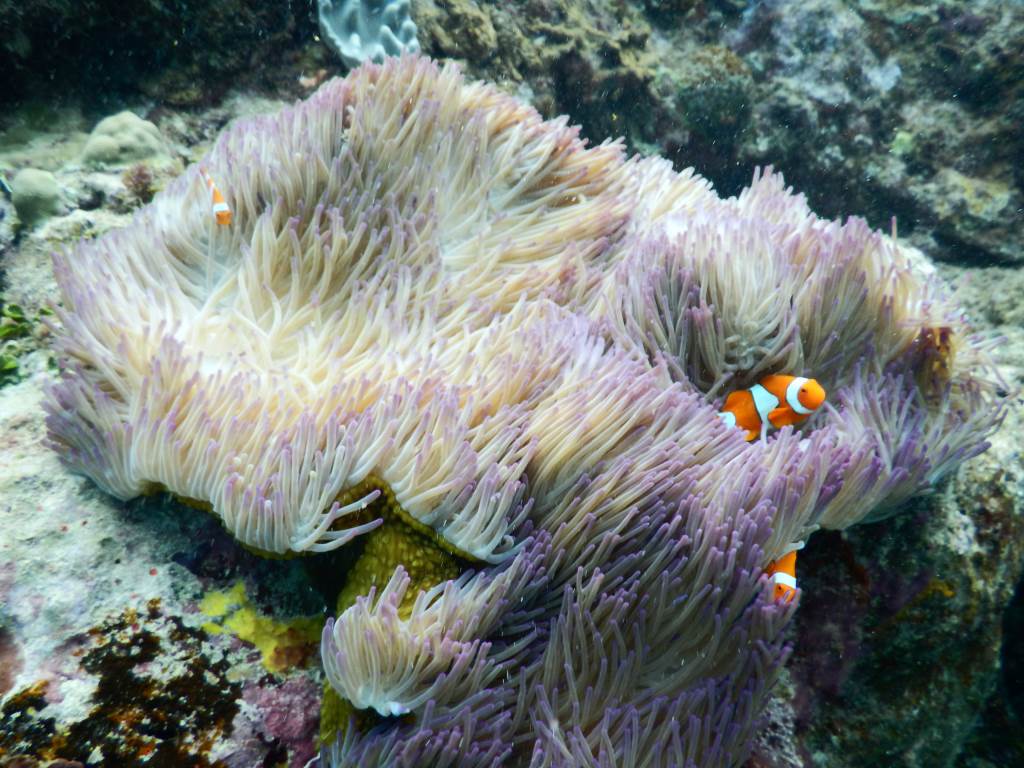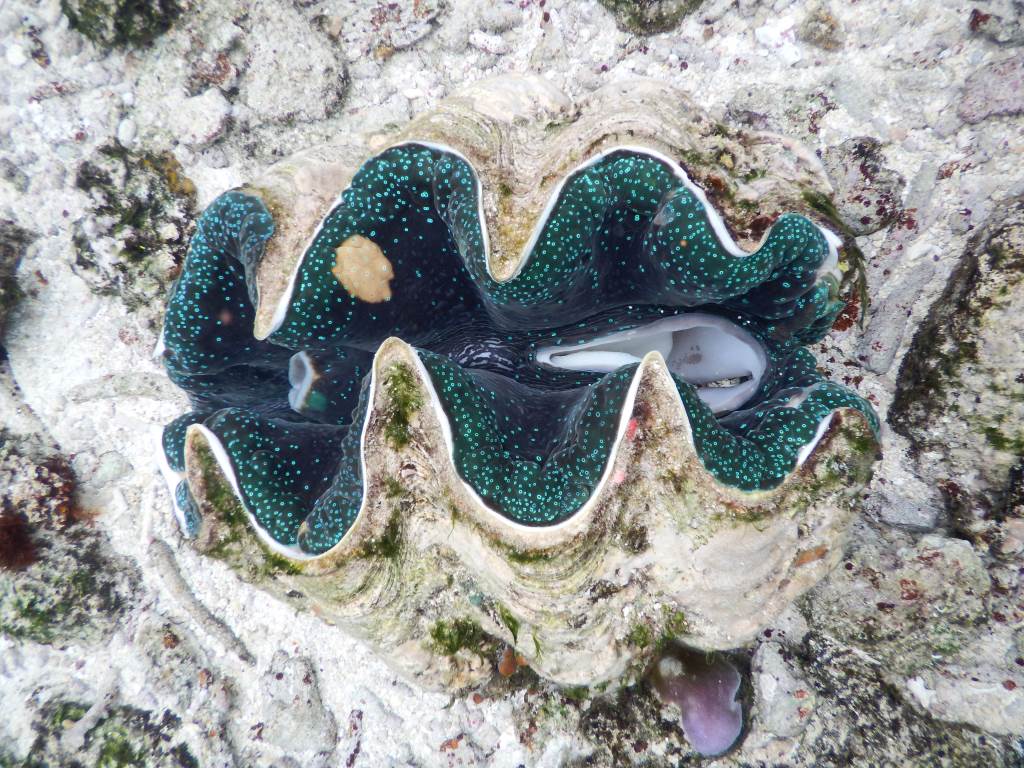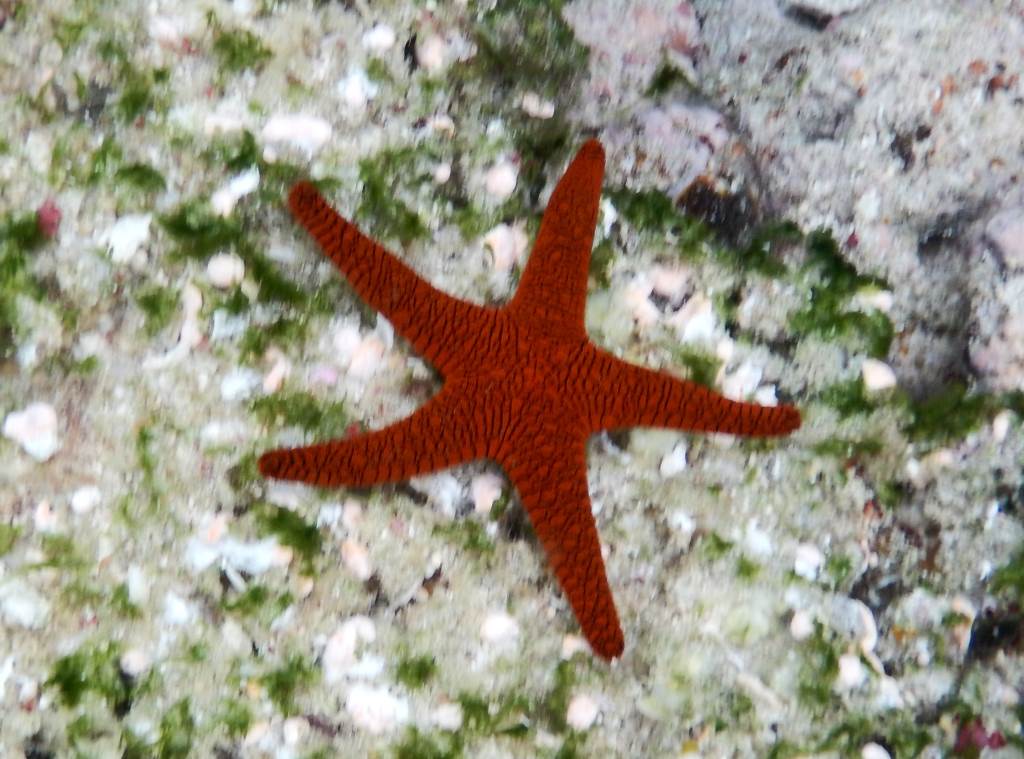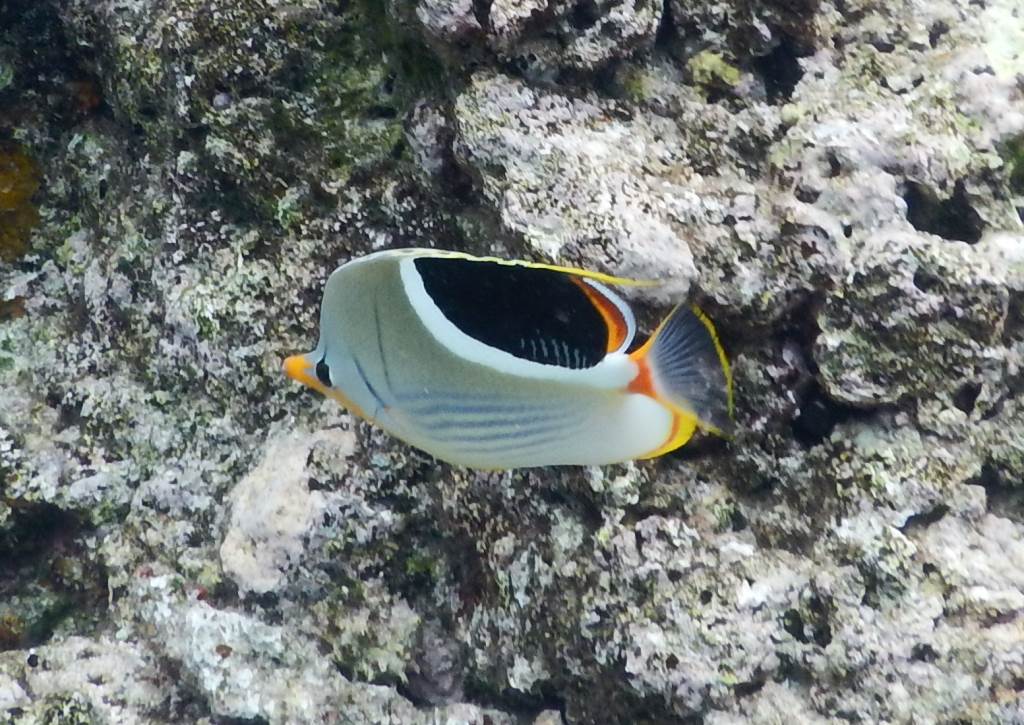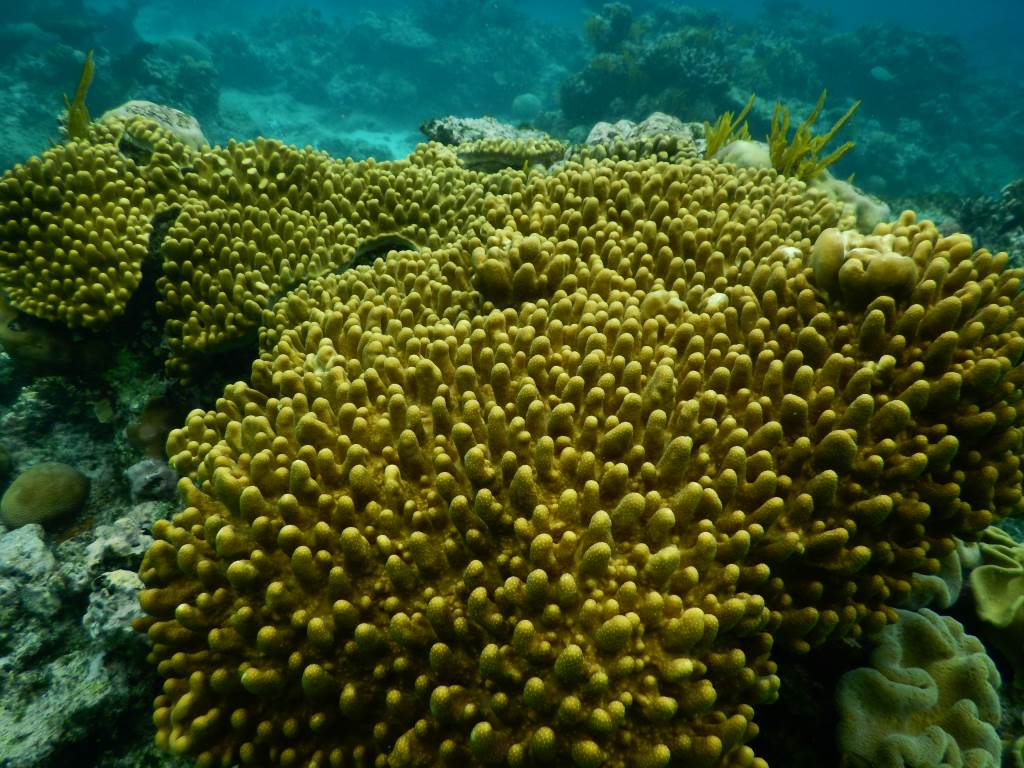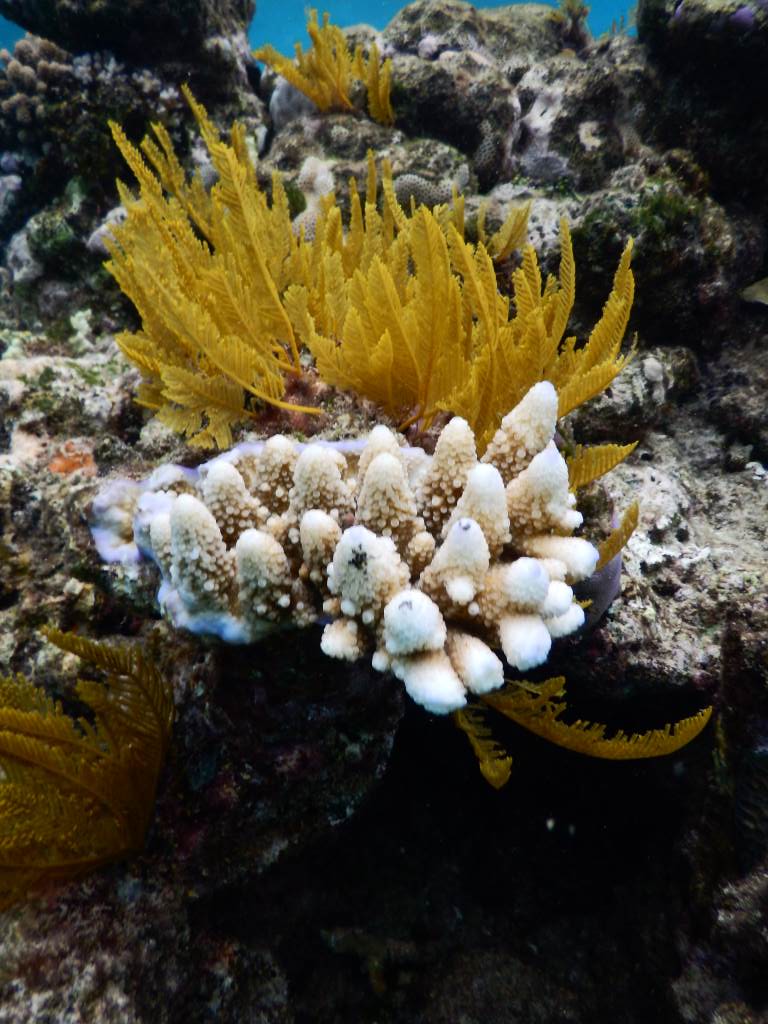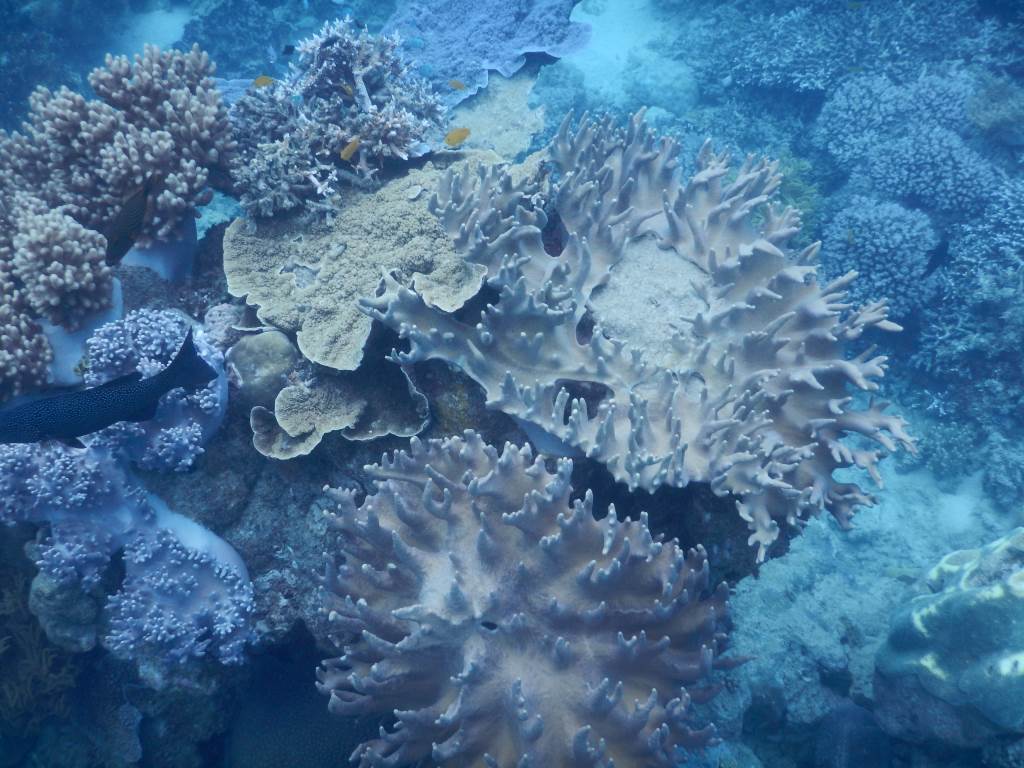 As at the end we also got to see one meter long White Tip Shark, we could have gone back really happy.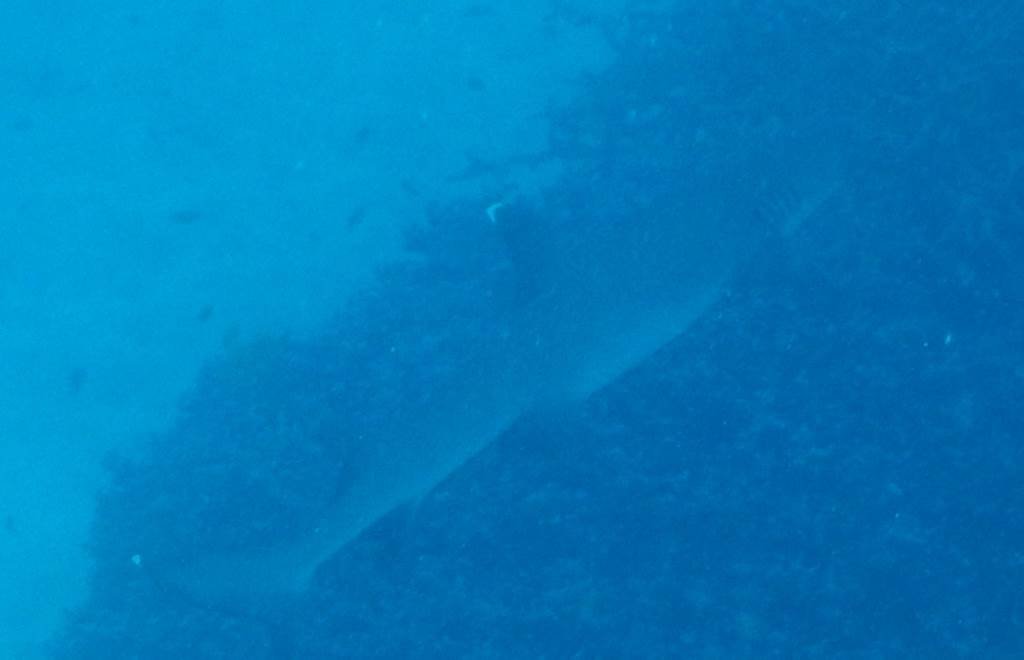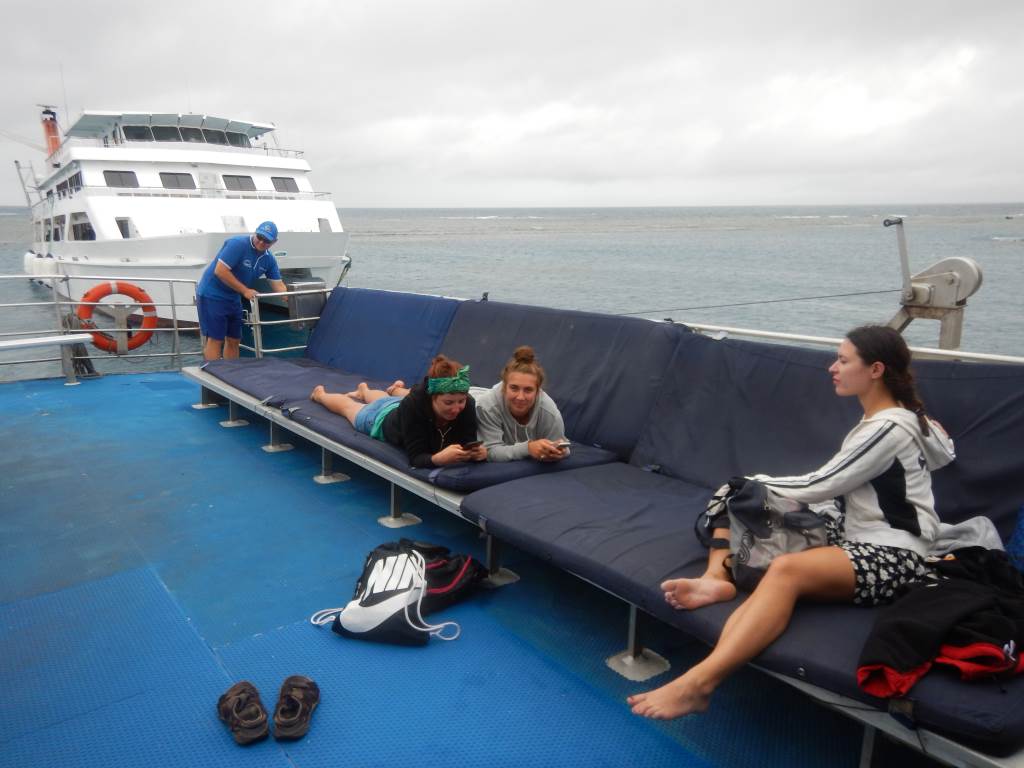 On Wednesday we greeted Irena who was flying back to Sydney and relaxed in the city of Cairns. Promenade offers very nice beach front walk with workout grounds, when exercising I met there my CS host Charlie who went for a little run. We went to the harbor to see all boats, luxury cruise and also few sails. Staying with Charlie was very nice CS experience as with him I met a person who had really tough life and now is spending all his free time to help other people.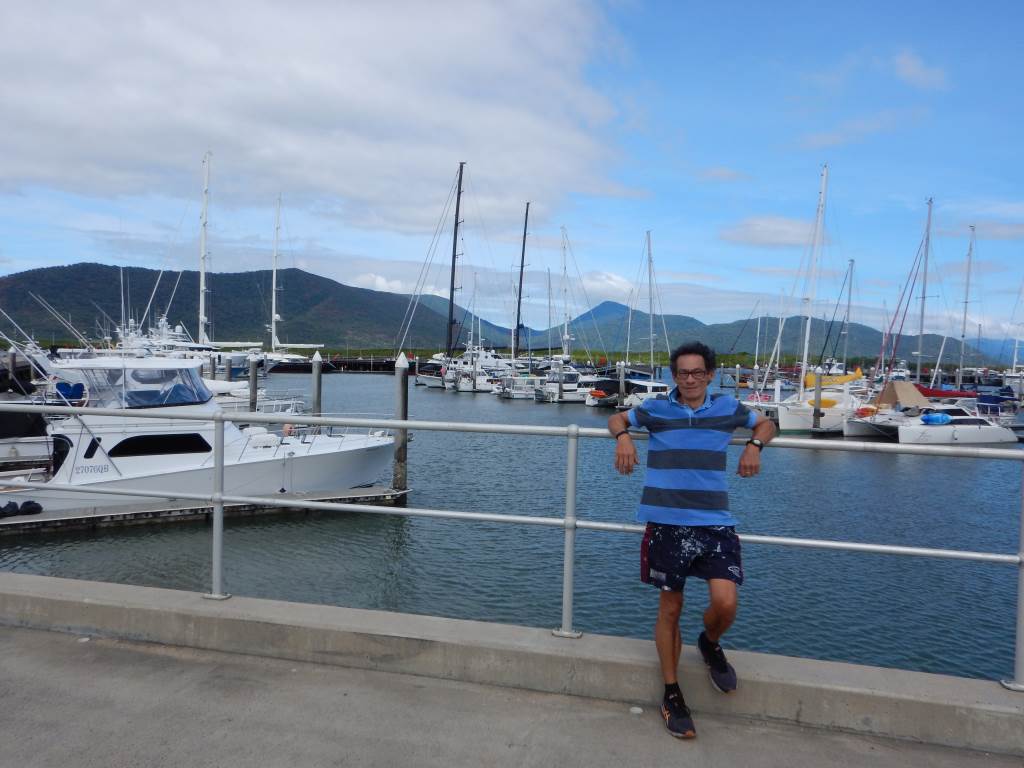 On Thursday the rest of our group (Candice and Melanie) rented a car to visit surrounding rain forrests. We first headed to Kuranda – but aboriginal markets were not really anything special – except combs hand made from corns, those were nice 🙂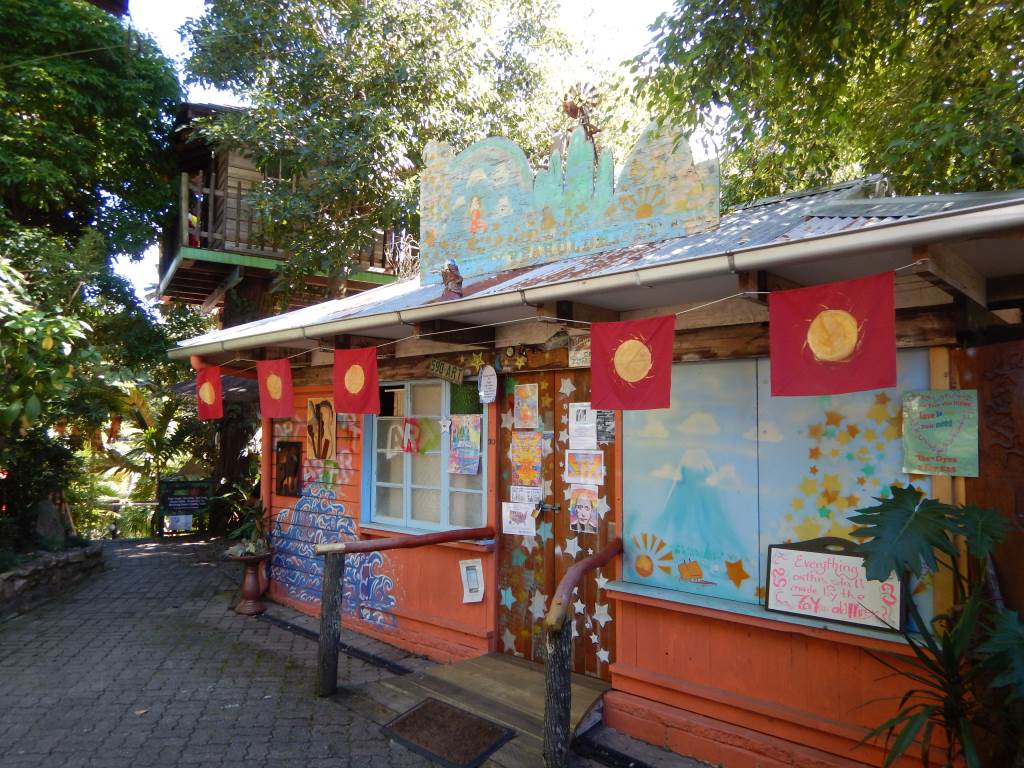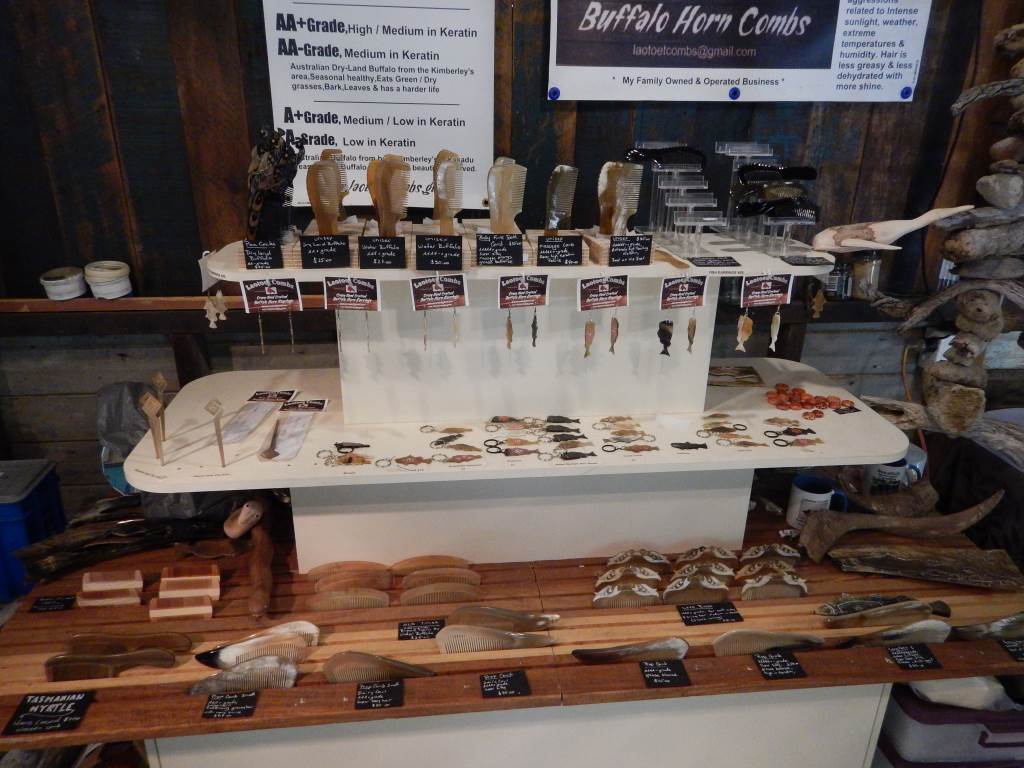 Barron falls just next to it were much nicer and it is still the dry season – cannot even immagine how impressive it would be in rain season.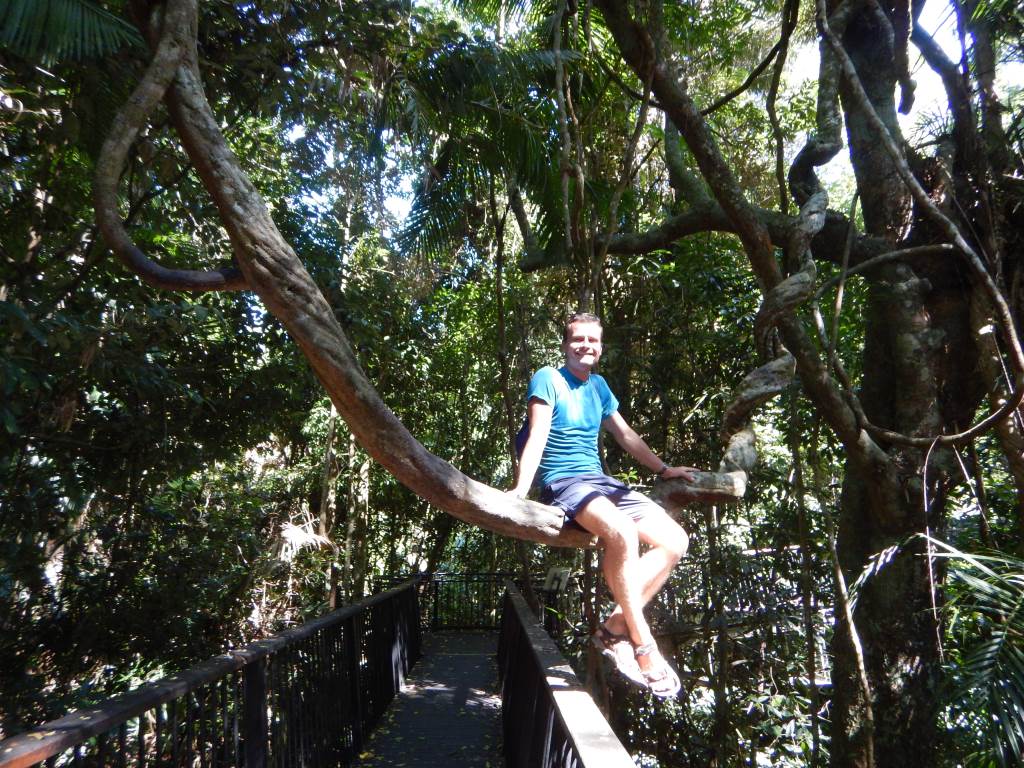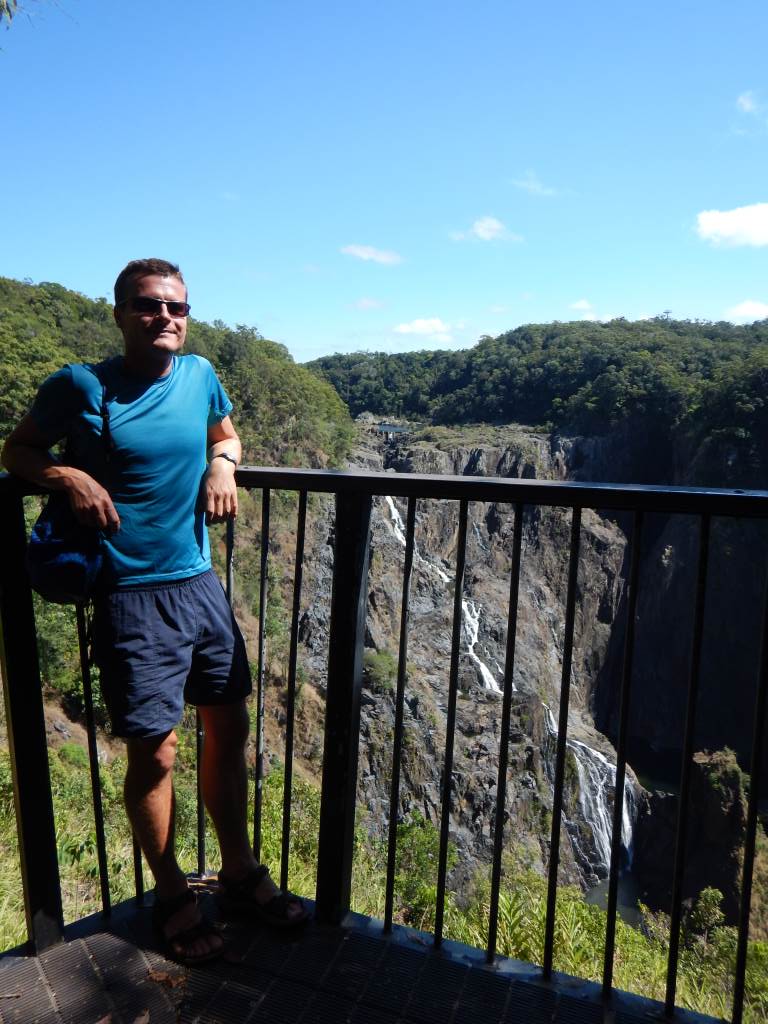 Then we moved to Daintree national park and joined Bruce Belcher's Daintree River cruise (definitely can recommend) As it is close to the sea, the water is mixed and the place is full of salt water crocodiles. We got to see 5 of them, up to 4.5 meters long!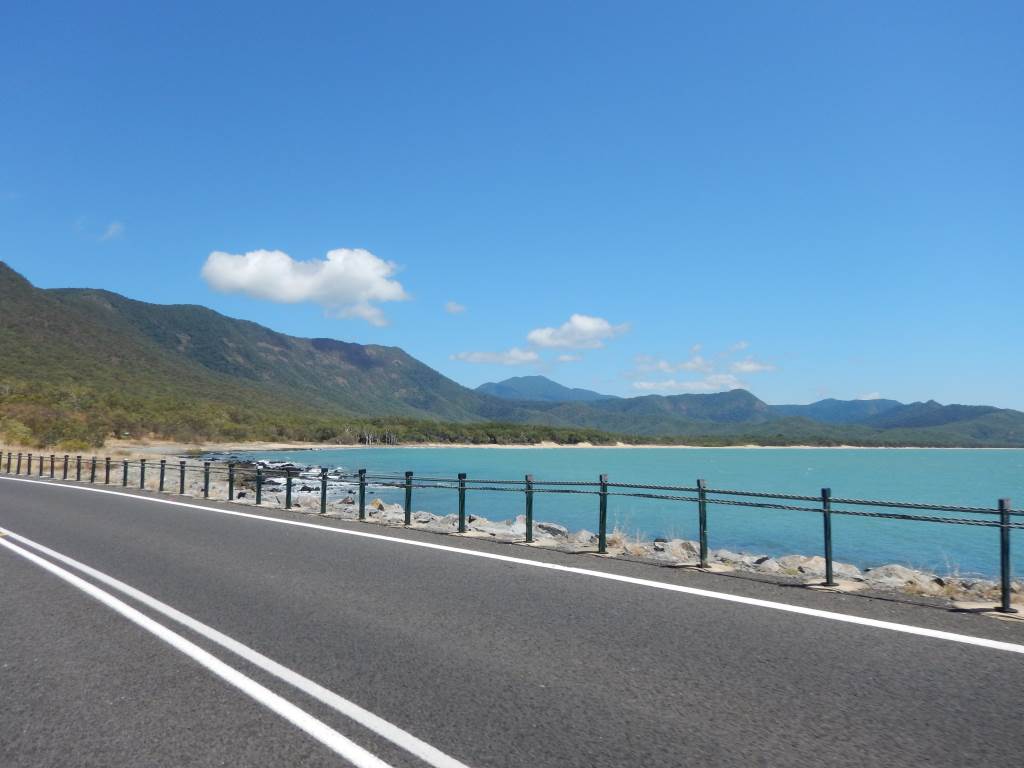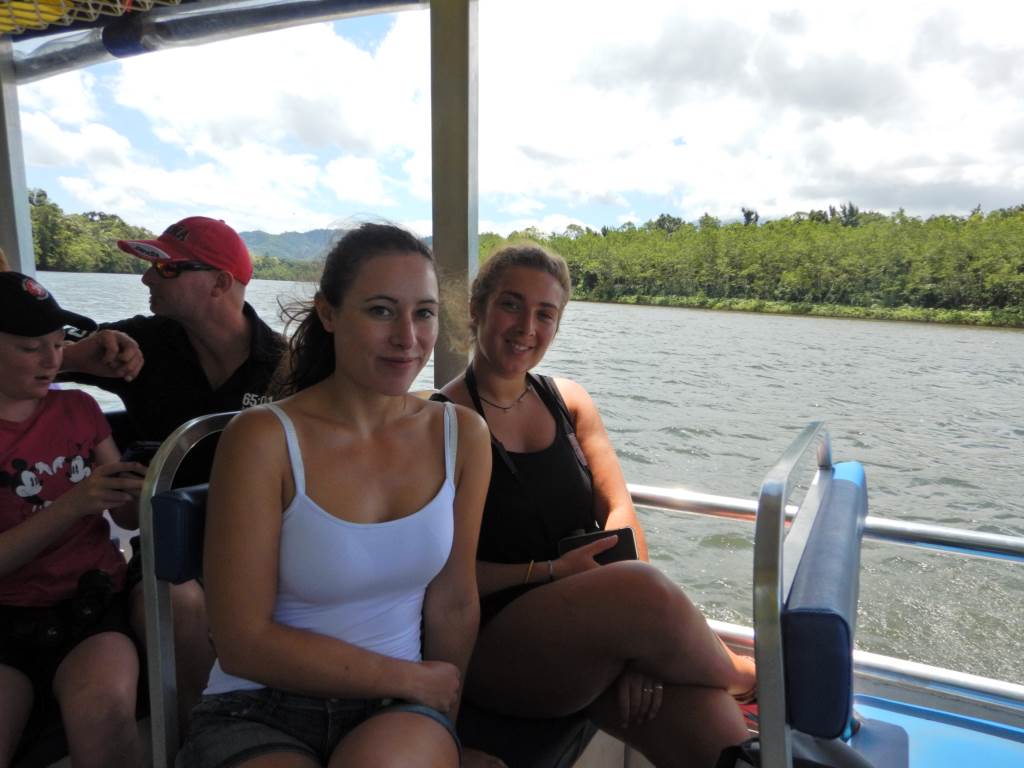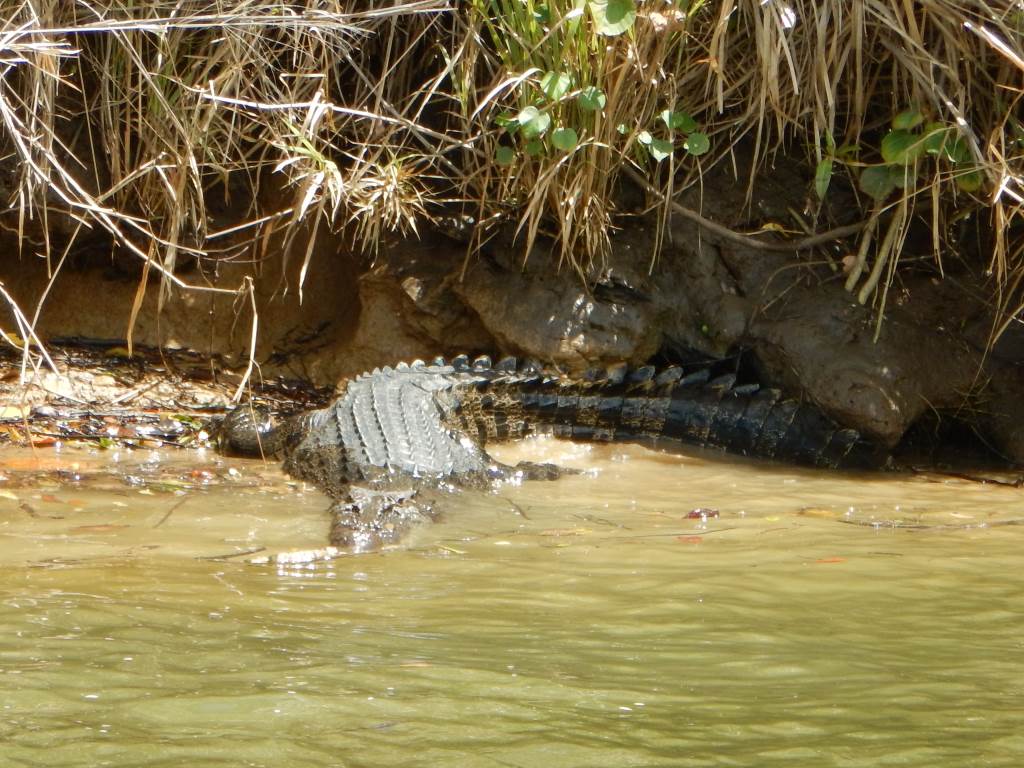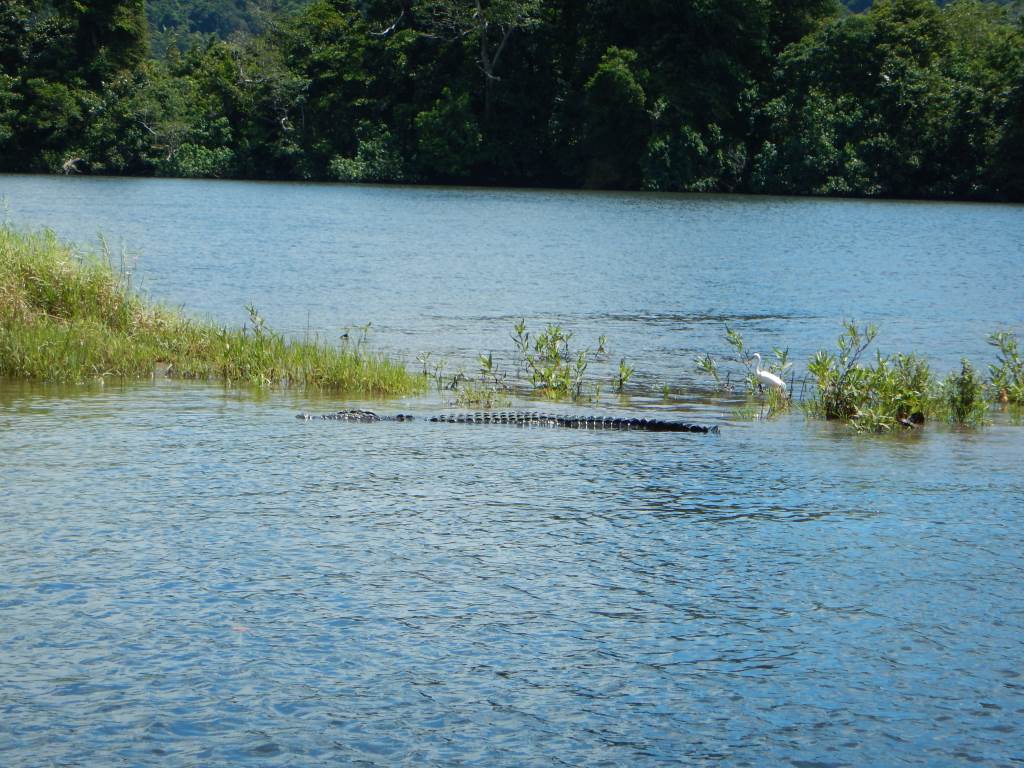 And I really liked Australians jokes 🙂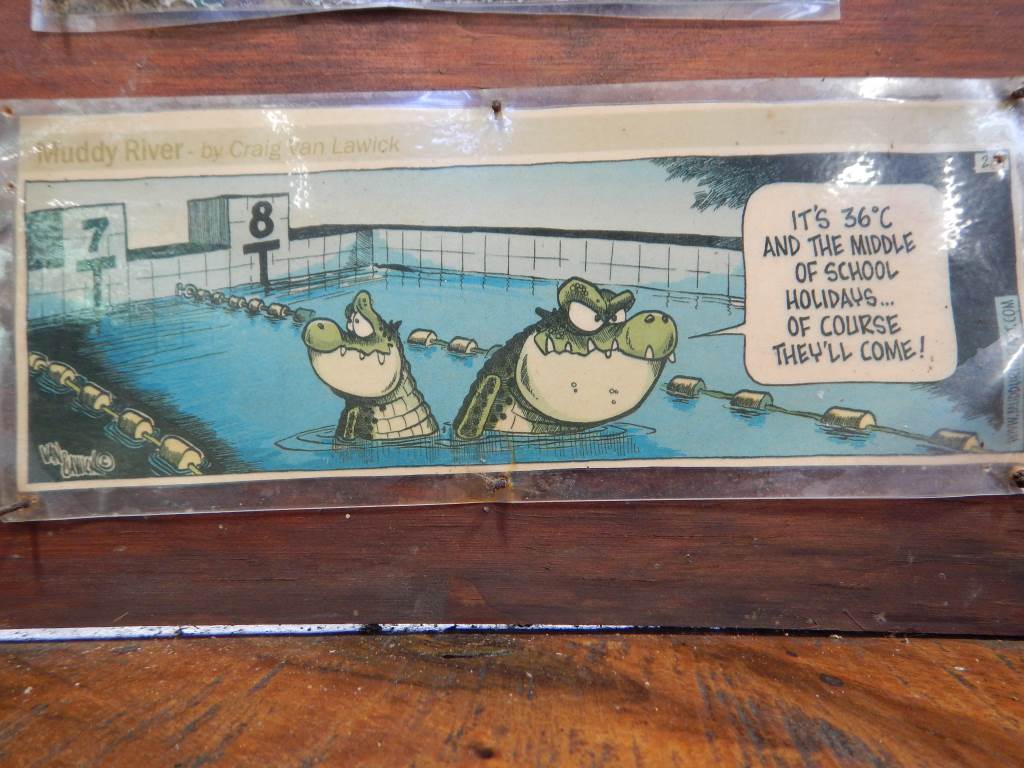 In Mossman Gorge we enjoyed nice walk with swimming in the rain forest.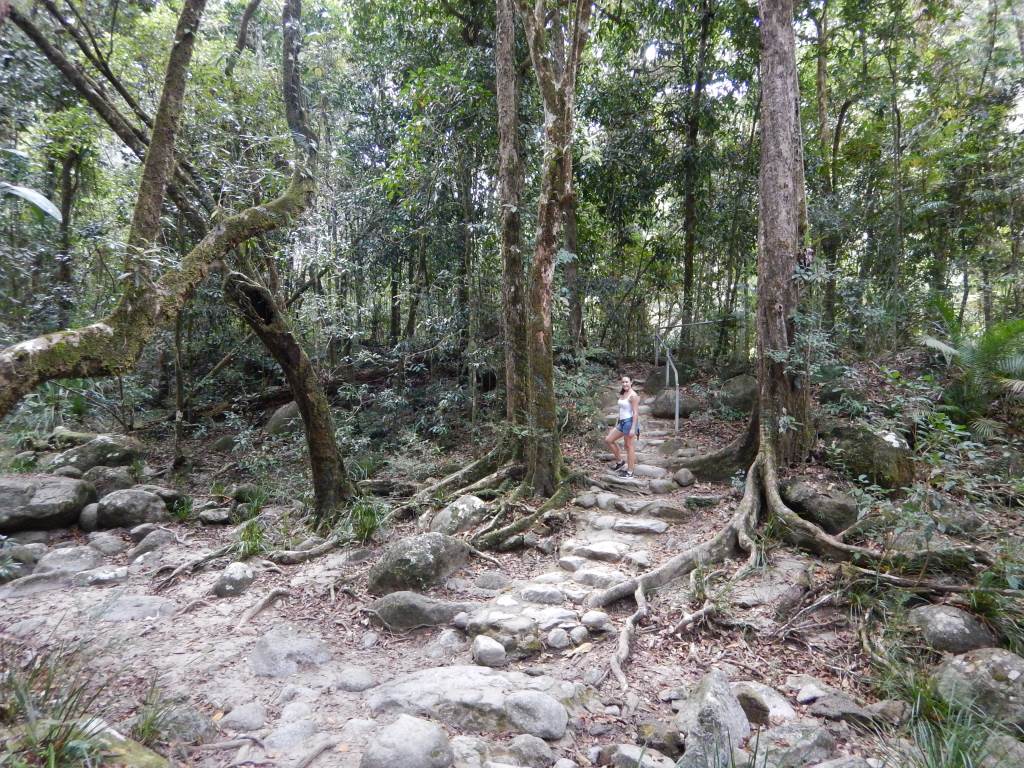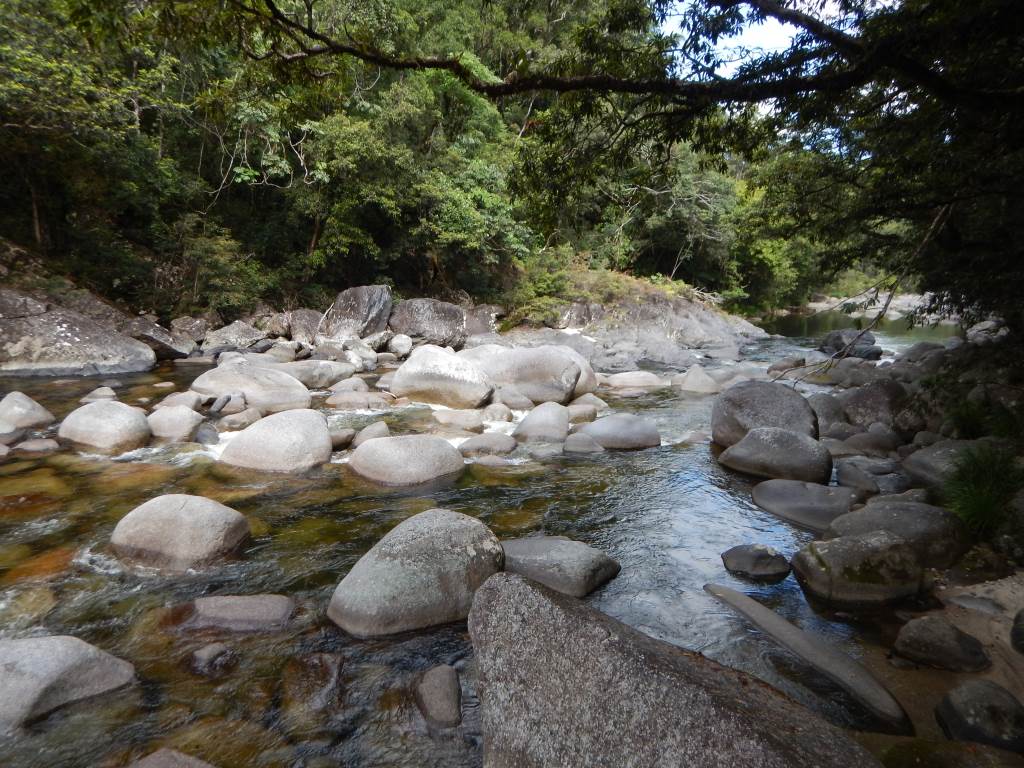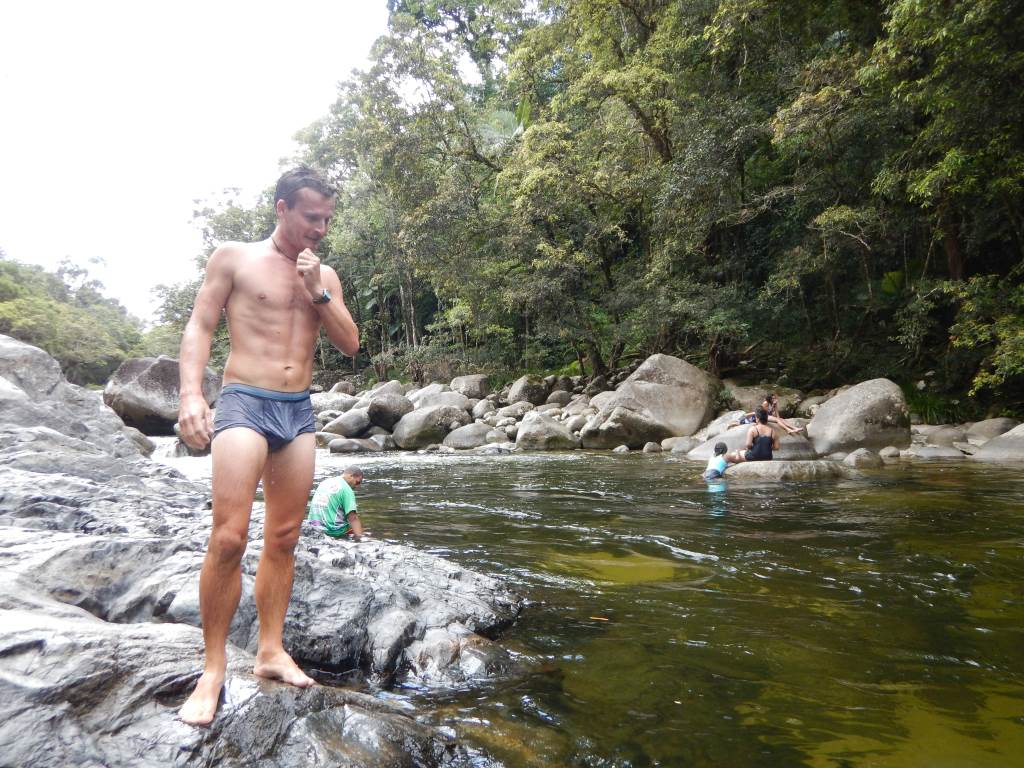 We went to Port Douglas town to check some job options for Melanie and as we were already here, we enjoyed the view from Flagstaff Hill and spent few moments on famous Four Mile Beach.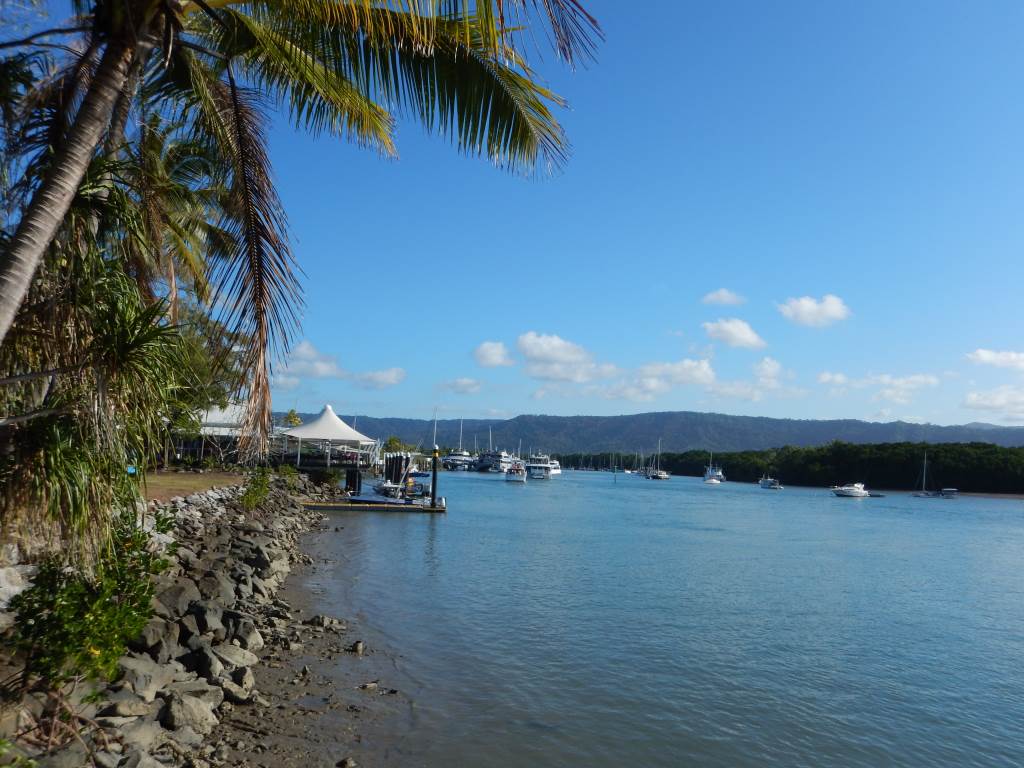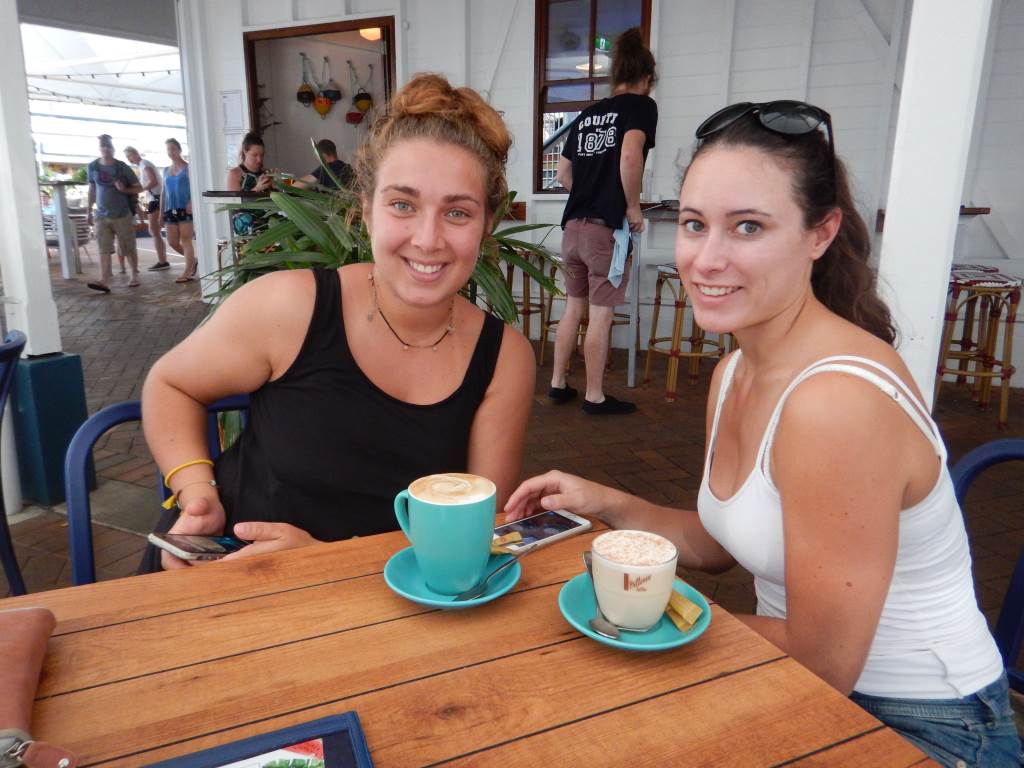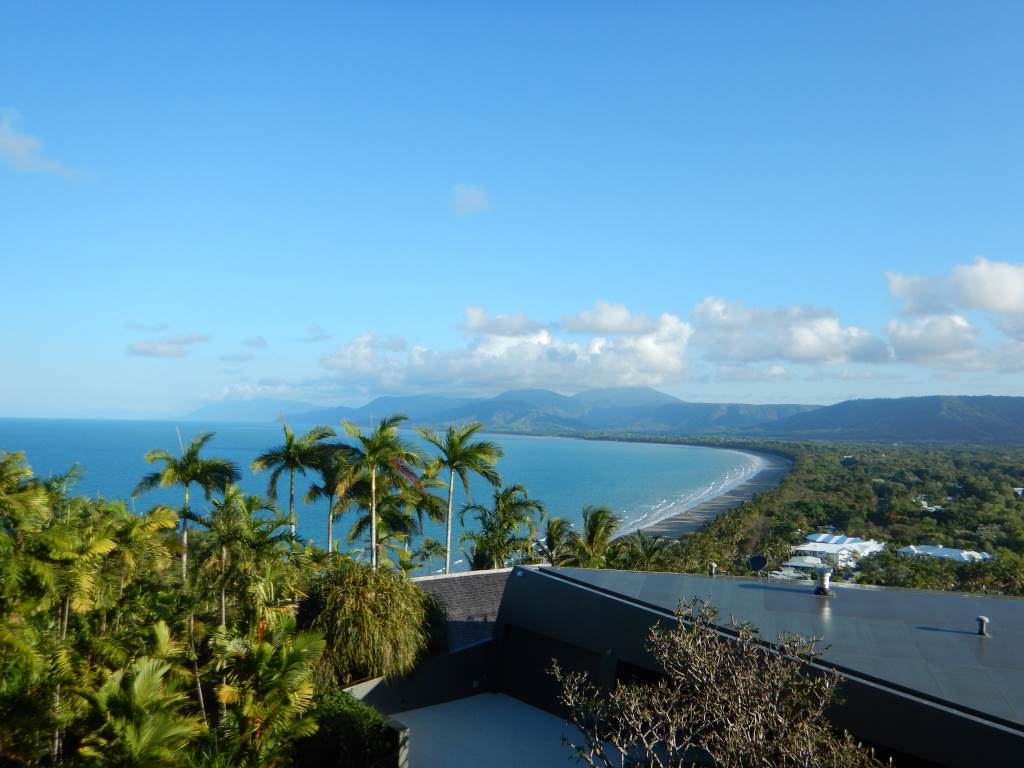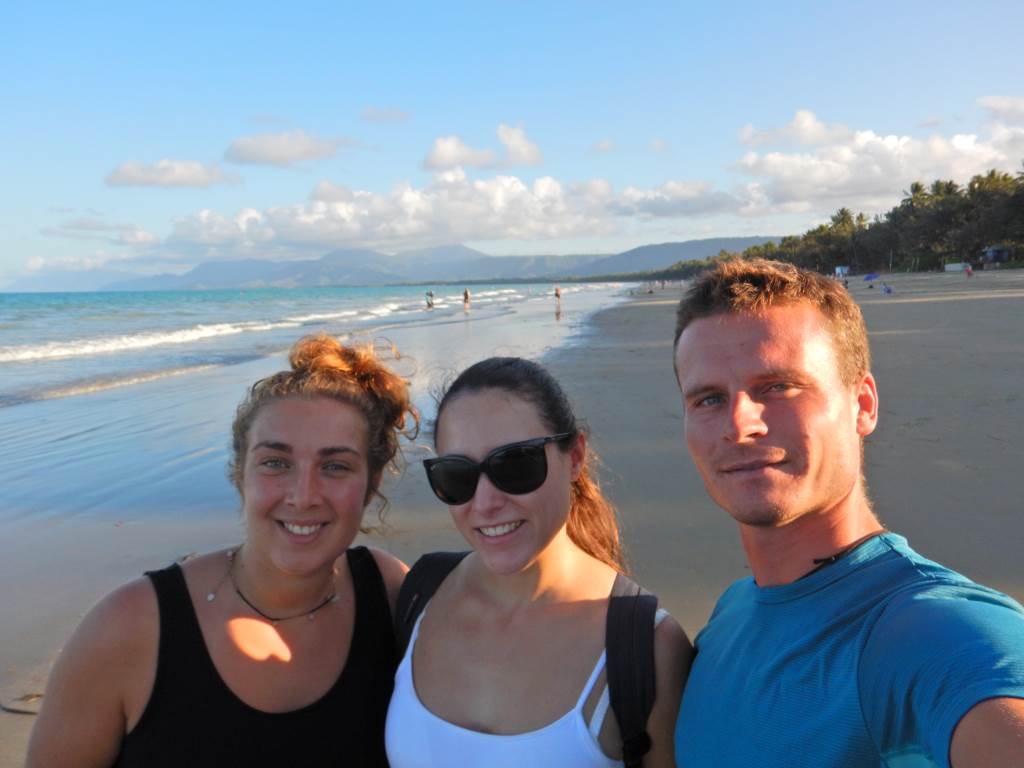 Our time was almost over and we headed back via scenic route along the coast to Rex Lookout – really a place where you must stop and enjoy the breathtaking view on the infinite ocean.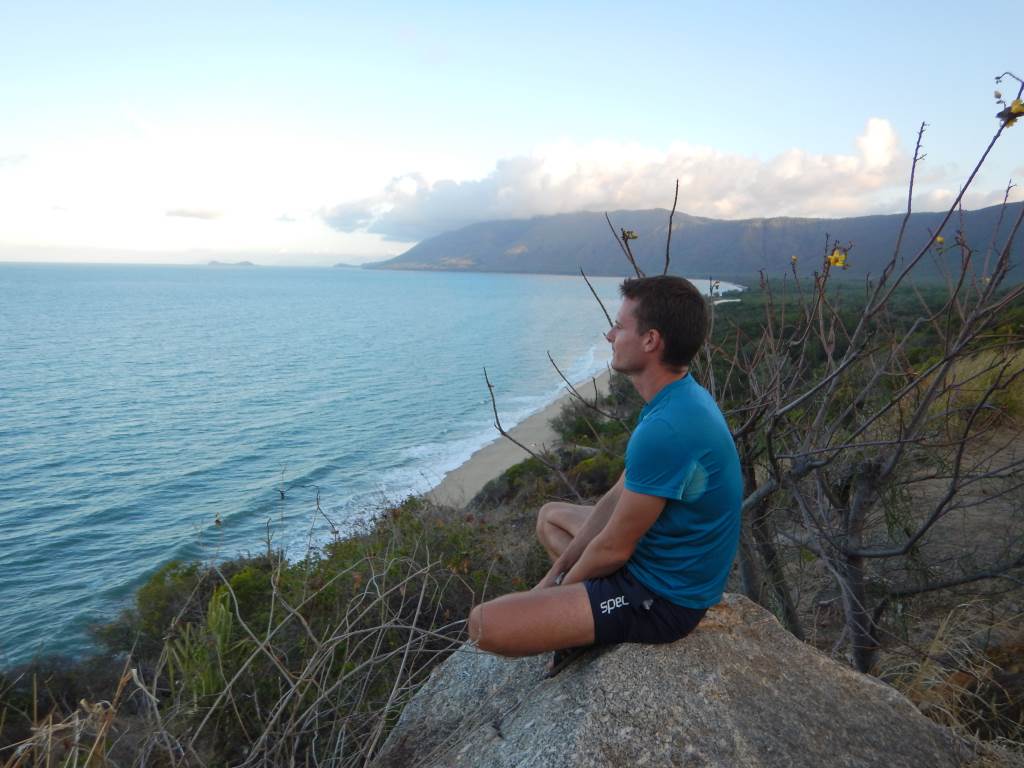 Today driven around 280 kilometers "only".
And the entire summary of Australia? 4 839 km north to south + 1 055 Great Ocean Road + 3 216 East Coast + 280 around Cairns = 9 390 kilometers in total across deserts, wetlands, national parks, mountains, cities and along the coast done by car in Australia.
And what to do the last night in Australia? Of course try some of their typical delikates – one of kangaroo, emu, or crocodile meat is a must to try. BBQ at the lagoon, kangaroo burgers, beer, wine and later relax with ukulele – perfect mix for perfect goodbye evening.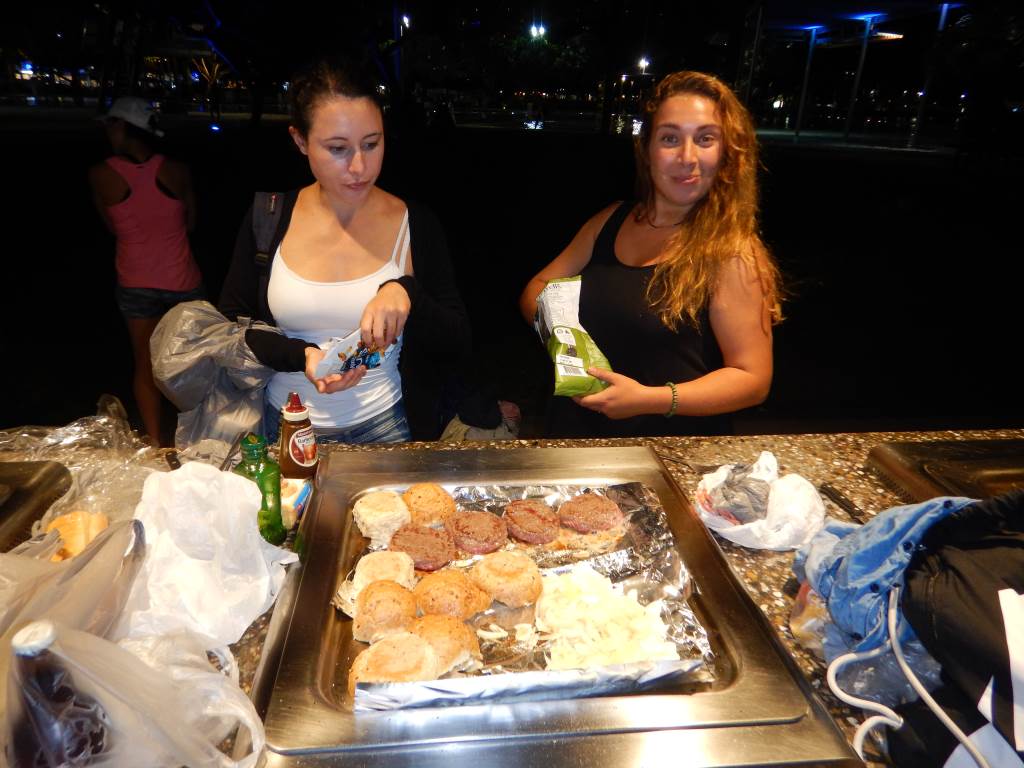 Today we enjoyed the sun and refreshing water and the lagoon, I greeted the girls and by walking the esplanade got to the airport.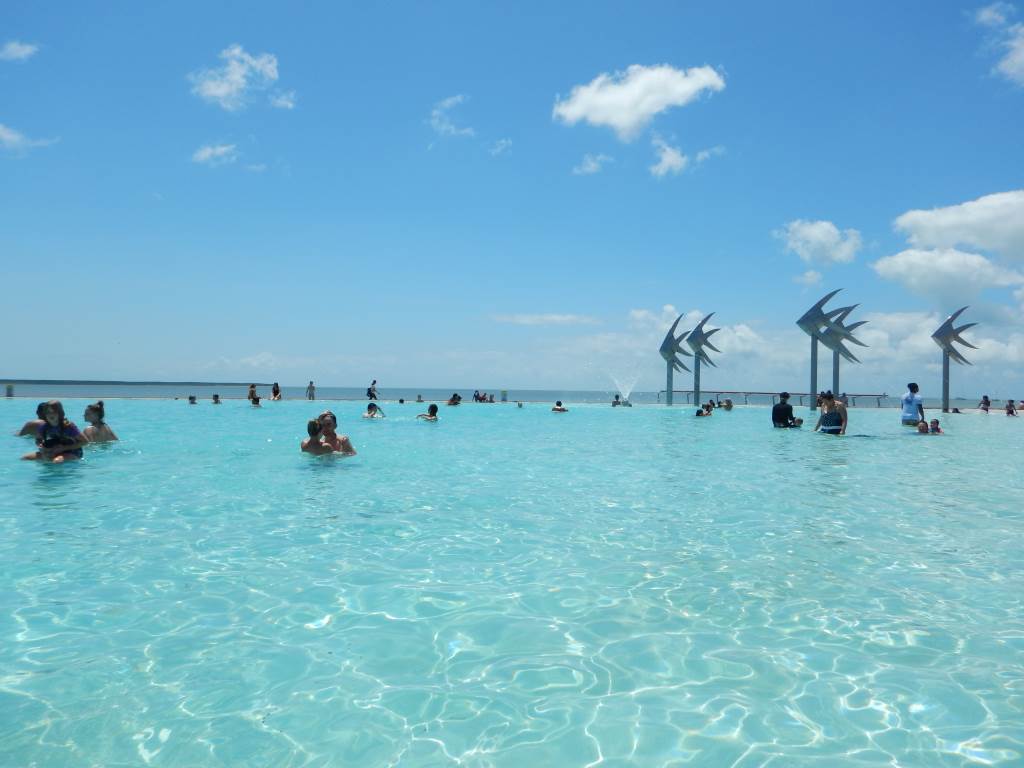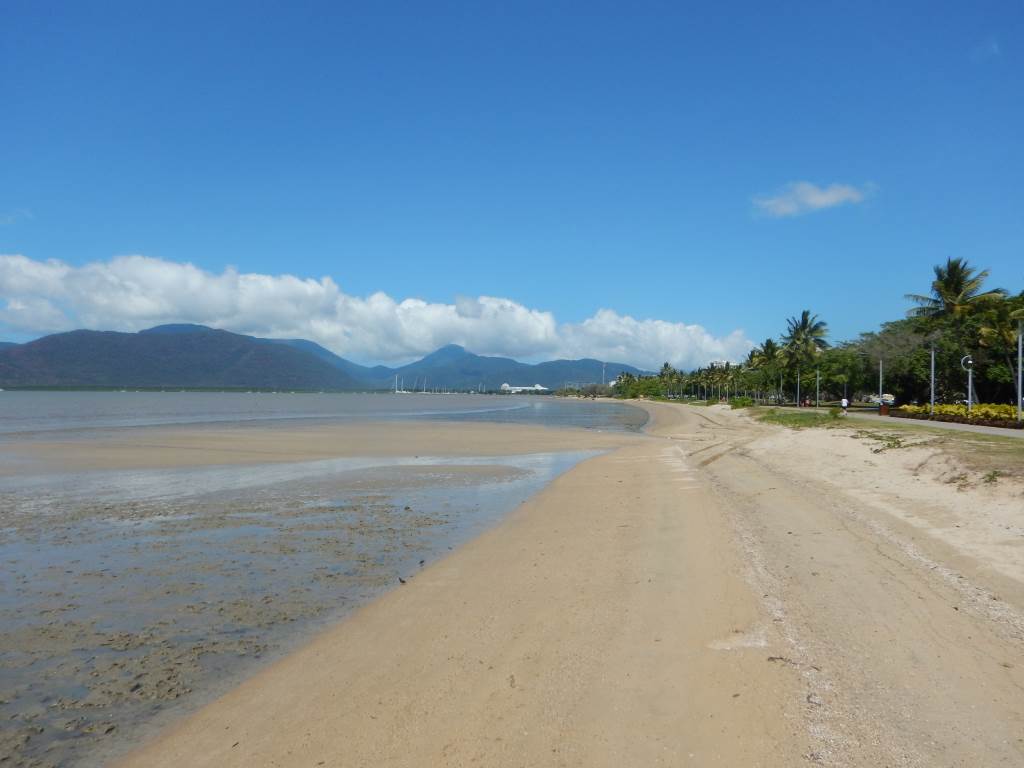 In the afternoon flight to Gold Coast, night in the airport and tomorrow morning New Zealand.
"Nice" surprise was waiting for me at JetStar check-in. I was told that my sleeping bag, camping mattress and shoes cannot be externally attached to my luggage. When I asked why, that I took +- 20 flights in past 6 months and it has not ever been a problem, I was told that I need to get everything inside. I told it does not fit in, but it is connected very well, it will not fall. The lady returned me passport and told she will not check me in! As I spent around 70 AUD for checked in luggage, I cannot really understand this behavior and will not EVER again fly with JetStar. After reorganization and fitting in everything except camping mat I got different lady at the check-in desk – even now it was not possible to check in this bag, but this time she admit that the mat can fly as second luggage free of charge. Well, handled better this time, but still – on the second flight Gold Coast to Queenstown it was not problem at all and my mat could have been just attached to the backpack.