New country, new city, new experience… 
Bangkok is same as Kathmandu big city in Asia, but this is the only similar thing. Here are asphalt roads (not too dusty) and garbage is not being burned in the streets (you can breath), just those two things means that Bangkok is way cleaner than Kathmandu. Moreover the main traffic is above normal streets, which means there is less traffic in city center, very good thing.
Another thing I would like to mention is the heat. It is terribly hot over here. Impossible to breath, you get headache and it is so humid that you are sweating even without moving. I guess I will not use thermal underwear and down sleeping bag…
As all Nepal was about mountains, Bangkok is about budhist monasteries. They say here are 400 of them, which means a lot!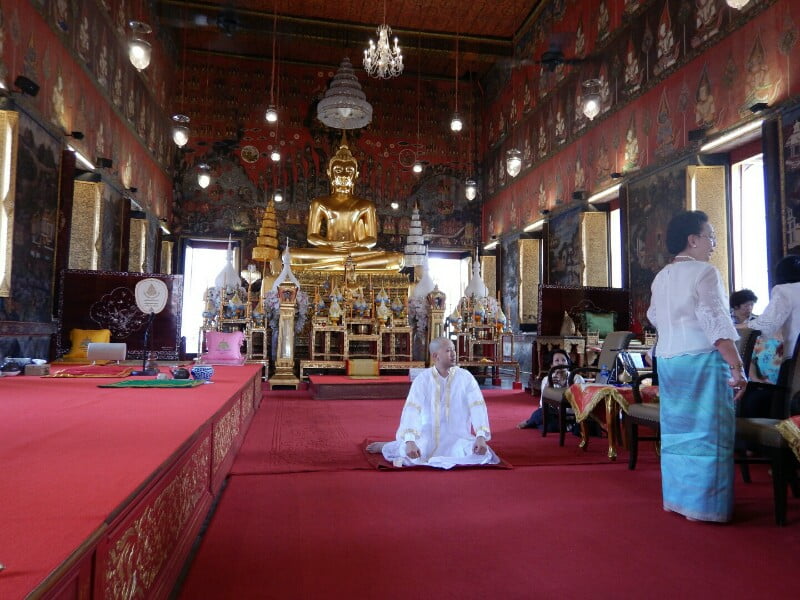 Immediately in the morning I gor caught by the most simple tourist trap. "today is bank holiday, tuktuk is almost for free (govermant pays for them)" Of course NON of this is true, tuk tuk driver will eventually bring you to some temples an goes through many streets so it seems you are travelling far, but it will not be the temple you wanted. He only wants to bring you to a shop where he gets some commission from what you spend. I was taken to "tourist information center" They offered me bus ticket for 1600 THB (if you buy it yourself it is 650, just without hotel pickup), train ticket for 2000 (normal price is 1200) and they also said it is high season so I will not find free hotel if I do not book immediately – their proposal was 900 per night, I was sleeping in a nice place for 150! When I got out of this "official" tourist info center I was really pissed for the time I lost, asked the driver to bring me to Golden mountain, paid him agreed amount (now he was pissed) It is incredible that all people all around the city will confirm you this bank holiday story…
Golden mountain is not actually any mountain, but artifical hill with 340 stairs (each step is high only few inches, it is more annoying than difficult to climb up) Anyway, nice view from there
On the way to train station (all trains to south beaches are going from Hua Lampong station) I bought lunch from 16 years old girl and her 17 years old brother.
Grilled chicken for 25 THB (70 euro cents) was great. There are houndreds of similar fast food. I bought many times per day peeled pineapple, water meloun, or other fruit which I have not seen before for just 20 THB. Half liter of water will cost you 10 THB.
I used subway to move to Lumphini park. Even if subway is nice and clean, it sucks as it covers only part of the city. No way to get to downtown or western part of the city by subway, locals have to use buses and tourists tuk tuk.

After having arrived to the park I was going to find a bench where I could take a rest in a shadow and wait until it cools down. Unfortunately I spotted those 2 beasts which did not let me sleep….

There are a lot of people sporting in the park. It is something like Central Park in New Yorku. Except thousands of runners here are few workout places, swimming pool, courts for tennis and badminton and it is possible to dance either.
Then I moved to Eravan Shrine temple
 just from outside I checked Baiyoke Sky Hotel, which is the highest building of Bangkok and finally also Victory monument.
If your legs are tired, you can relax by walking this path
At least a quick visit of Patpong Night Market was a must 🙂